Ferro-Alloys Industrial Annual Conference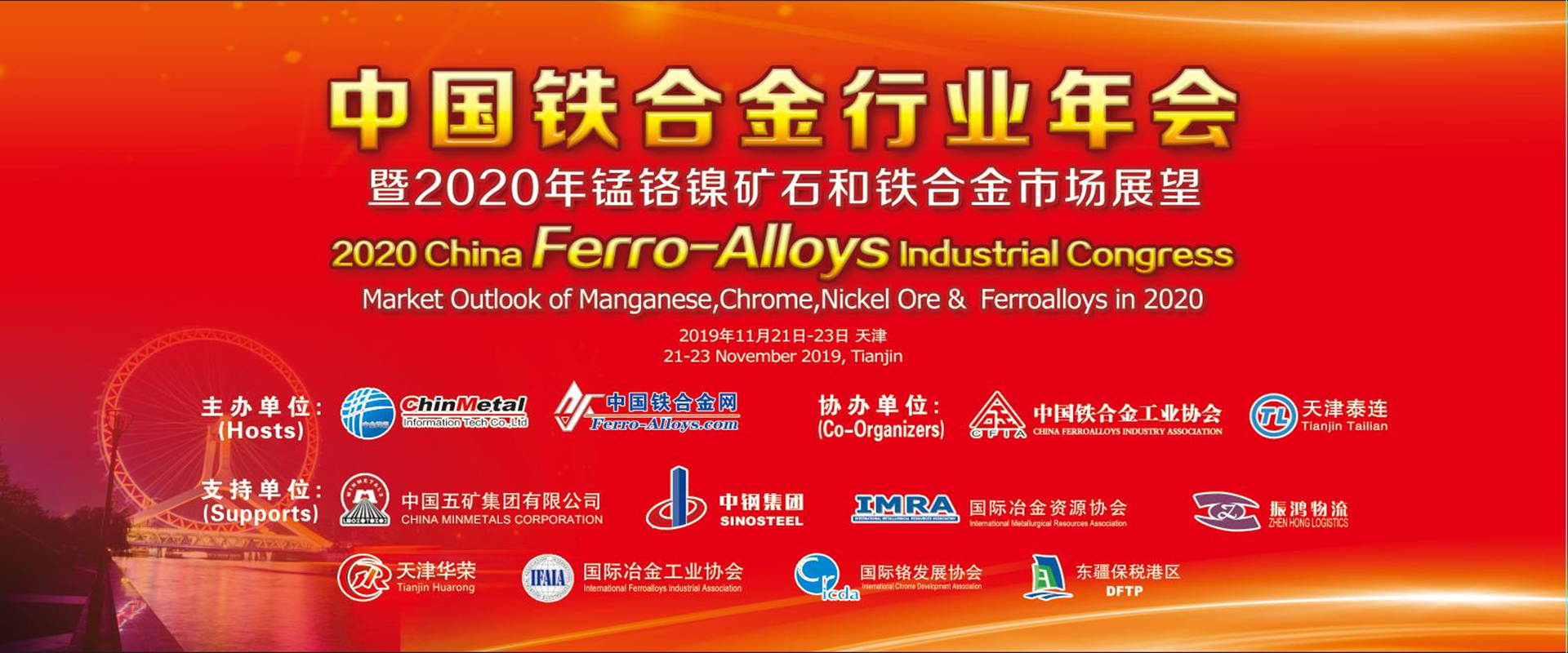 Ferro-Alloys Industry Annual Conference
Market Outlook of Manganese, Chrome, Nickel Ore & Ferroalloys
To Ferro-alloys industry chain enterprises:
"China Ferro-Alloys Industrial Congress & Market Outlook of Manganese, Chrome, Nickel and Ferroalloys in 2020" will be held in Tianjin Binhai New Area on November 21st to 23rd. The congress will be organized by ferro-alloys.com, co-organized by China Ferro-Alloys Industry Association, Tianjin Tailian and supported by China Chamber of Commerce of Metals, Minerals & Chemicals Importers & Exporters, International Metallurgical Resource Association, International Chrome Development Association and Tianjin Dongjiang Bonded Port Area as well as industrial service leading enterprises such as Tianjin Zhenhong Logistics, Huarong Logistics, MinmetalsIinternational Freight Tianjin Co., Ltd., Zhengzhou Commodity Exchange.
In 2019, China's ferroalloy industry made a significant progress. The enterprise equipment has transformed into large-scale and energy-saving. The capacity and output continue increasing. The import volume of manganese ore, chrome ore and laterite-nickel ore inccreased significantly year-on-year. Stable development of ferroalloy industry has promoted development of iron and steel industry, but the industry is still faced with many difficulties and challenges. We are looking forward to meet you at the end of this year to summarize the experience of ferroalloy indusrtry development in 2019 and to look forward to the coming year to get ready for usher in new challenges.
Ⅰ. Subjects
Themed by "stengthening industrial chain collobration, improving risk control of supply chain and outlook for ore and ferro-alloys market trend in 2020", the conference will invite medium and large-scale iron and steel enterprises, ferro-alloy enterprises, coke and electrode producers, logistics agents, commodity inspection and industrial chain service enterprises as well as domestic and foreign mainstream manganese ore traders, chrome ore traders and nickel ore traders to discuess on the following subjects under the current situation of international trade:
1. Influence of current international economic and trade situation on the iron and steel and ferroalloy industry in the future;
2. Strengthening cooperation between iron and steel enterprises and ferroalloy enterprises and intensifying ferroalloy supply chain management;
3. New ideas of purchasing mineral resources, market trend and risk control of imported manganese ore, chrome ore and nickel ore;
4. How to strengthen information interaction between iron and steel enterprises, ferroalloys enterprises, mines, traders, logistics and information enterprises and sustainable and healthy jointly;
5. Ferroalloy futures market trends and profound influence of futures to spot market.
Special Meetings
1. Depth report on ferroalloy futures and spot goods;
2. Report on industrial policies and hot topics;
3. Seminars for main manganese ore traders and ferroalloy producers;
4. Trade negotiation
Date and Venue:
1. Date: November 21th to 23th, 2019
2. Venue: Tianjin Renaissance TEDA Convention Center Hotel
Schedule:
November 21st, 2019
a.m. 10:00 to p.m. 18:00 Check-in and business negotiation (negotiation seats are available)
p.m. 14:00 to 17:00 Ferroalloy futures and spot market forum 2019 to 2020
p.m. 14:00 to 17:00 Communication of Manganese Series Committee of China Ferroalloy Industry Association
p.m.17:30 to 20:30 Opening ceremony and Reception Banquet
November 22nd, 2019 Meeting for whole day
a.m. 09:00 to p.m. 18:00 Hot topic report
Ⅱ. Charge :
★ Members of Ferro-Alloys.com USD 800/pp
★ Non-Members of ferro-alloys.com USD1000/pp
Please pay by bank transfer, if paid by credit card, additional charge 5% will be charged.
Payment

Company: CHINMETAL INFORMATION TECH CO.,LTD

Bank: CHINA CONSTRUCTION BANK, BEIJING CHAOYANG SUB-BRANCH

Address: No. B 10, Chaowai Street, Chaoyang District, Beijing,100020, PR China

USD A/C NO:11014080100220000094 SWIFT CODE: PCBCCNBJBJX

Contact: Tel: +86-10-87760688、87755388 Fax:86-10-87776388 Mobile:

E-mail: info@ferro-alloys.com Website: http://www.ferro-alloys.com
Notes:
1. In case that an enterprise that has paid the conference expense informs the conference committee before October 30th that they cannot attend the conference, half of the conference expense can be refunded. In case that enterprise that has paid informs the conference committee after October 30th that they cannot attend the conference, no refund can be made. The conference committee has the final right of explanation (unless the conference cannot be held on time due to force majure).
2. In case that the conference is postponed or cancelled due to force majeur, the organizing committee shall noe be liable for any compensation arising therefrom.
Ⅲ. The Previous Conferences .
It is estimated that the more than 300 enterprises will attend the conference and the number of attendee will be more than 400. We sincerely invite you to take time out of your busy schedule to attend China Ferro-Alloys Industry Chain Annual Conference to look into the challenges and opportunities that the industry will face in the future, take precautions and create new resplendence with industry insiders at the end of the year!
We are looking forward to meet you in Tianjin and witness a unforgettable grand gathering again at the end of the year!